On several occasions, I watched Kogi Government officials speak with pride and satisfaction about the newly commissioned hospital in Kogi being the best in Nigeria. At first, I thought the claim was political and didn't give it a serious consideration. Moreso, Kogi isn't Lagos or Rivers. How did they get such a humongous budget to build the best hospital in Nigeria.
As a concerned Nigeria, I travelled all the way to Okene to see the hospital. And what I saw was mind-boggling. The super-structure, the environment and the facilities were a testimony of excellence and uncommon commitment to greatness.
On my way back to Offa after what I saw changed my name from Thomas to Faith; many thoughts ran through my mind. "So Nigerian leaders know what is right but always shy away from giving their people the best", it was an invasion of thoughts on one lane, anger on the other and commendation on the last lane.
For instance, the Hyperbaric Oxygen Chamber is debuting for the first time in Africa. The Hyperbaric Therapy can dispense 100% oxygen and save patients from life-threatening medical conditions, such as canon monoxide poisoning, and decompression sickness which includes central retinal artery occlusion, sudden idiopathic hearing loss, chronic wounds of varying etiology, and avascular bone necrosis, air and gas embolism, cyanide poisoning, acute smoke.
Nigerians who need Hyperbaric Therapy travel to Europe to access the services and in most cases, queue for up to four months to enjoy the therapy; yet, our leaders prefer to queue abroad rather than bring the machine to Nigeria to enable Nigerians enjoy same.
The Kogi Medicare magic is a lesson for Nigerian leaders. Nothing is impossible if our leaders are creative, innovative, committed and patriotic. The Reference Hospital, Okene was made possible because a leader chose to be different. That is what Nigeria needs to truly takes her place as the giant of Africa.
I am sure many Governors won't be happy that Kogi has blazed the trail in medicare. They have been exposed thoroughly and it is now crystal clear that with commitment, Nigerians have no business spending our resources on treatment abroad. We can bring the world to Nigeria and arrest brain drain by providing the best of facilities and conditions for our medical officers
Nigeria can start from the Kogi example and raise the bar in healthcare delivery in Africa. Ghanaians, Togolese, Beninese , Ivoirians, Cameroonians and other Africans will now come to Nigeria for Hyperbaric Therapy. This is how to be the pride of the continent!
If Kogi with her meagre resources could fund this, why not other more buoyant states? When will our leaders stop wasting our money on frivolities and learn from Kogi State Governor?
President Muhammadu Buhari, the President and Commander in Chief of the Armed Forces was in Kogi recently to commission projects. He commissioned roads, a viaduct (flyover) , a Model Science Secondary School and many others. What this translates to is that the Governor has been able to impact the high needs of the people with effective simultaneity. This is the efficiency at its best.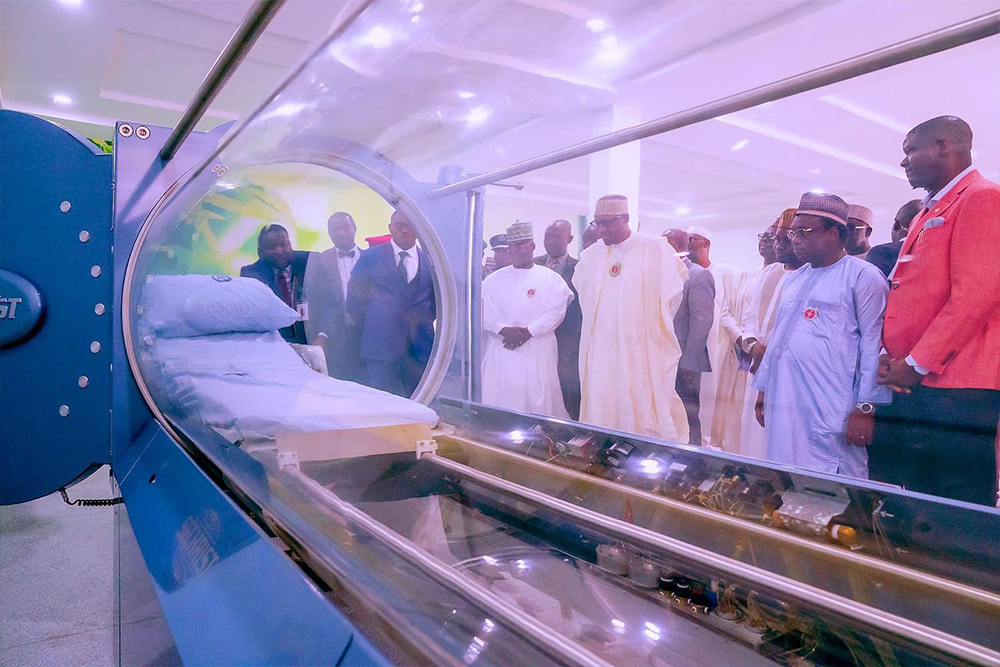 The President's visit also revealed the management model of the Reference Hospital. As a shrewd business mogul and a billionaire before becoming Governor, Governor Yahaya Bello was smart enough to bring private management into the Hospital. It will no doubt bring jobs but also efficiently managed. Government management would have jeopardised the intent of establishing the magnificent hospital.
With private management , every Kogite and every Nigerian is treated specially without the officialdom of preferential treatment of the "big men" in Government. It will ensure professionalism and efficiency and also generate good revenue.
I also saw the school on Television stations on the day of commissioning. Top notch, smart, well equipped and a revelation of what Kogi is preparing for. I am not happy the President couldn't commission the Confluence University of Science and Technology and also the Prince Abubakar Audu University Teaching Hospital, all built by Governor Yahaya Bello. Kogi is paying attention to Science, Technology and Medicine. They have shown that they are ready to bake quality manpower for the about to be enlivened Ajaokuta Steel Company.
The thousands of staff that will be employed at Ajaokuta and other companies in the State do not have to worry about healthcare services. Kogi has built a system to take care of that. I also heard about the super structured Kogi Health Insurance Scheme and Bello Care; properly managed by the Kogi State Health Insurance Agency, birthed by Governor Yahaya Bello to ease access to Medicare by women and children. What a masterclass!
This is how a Governor should be remembered. I was so much pissed off by the initial impression the media made me to have about Governor Yahaya Bello. He was painted as violent, corrupt and uncaring. He has answered on one single day and heads are turning. No wonder someone tweeted that the money they claimed Yahaya Bello stole has resurfaced in the Reference Hospital, Model Schools, Roads and even the first Flyover in the history of the state. Now Kogites know where their monies "flew" to. I want to urge other Governors to steal in the same manner.
Thank you Governor Yahaya Bello for making my generation witness an act of selflessness and excellence by my generation. We won't forget this.
This piece was written by Adeogun Olusola, a Public Affairs Analyst , 30, Temidire Avenue, Osogbo, Osun State.