By AMODU GLORIA.
Dr. Folashade Ayoade, Secretary to the State Government, has praised Kogi State Governor, Alhaji Yahaya Bello, for taking significant initiatives to strengthen the state's information sector.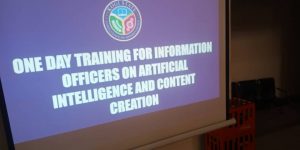 The Secretary to the State Government, who stated this while declaring open a one-day training of Information Officers on "Artificial Intelligence and Content Creation" at the Graphic Newspaper Conference Hall in Lokoja, was represented by the Permanent Secretary, Cabinet and Special Services to the SSG's Office, Mall. Katu Sule
The SSG described the in-house training as a welcome development by the State Government to effectively train Information Officers in carrying out their duties in their various offices and MDAs while staying current with current trends in information technology.
She said the training would assist the information officers, who are also the chief advisers to their principal officers, in properly disseminating their achievements to the people of the state.
Earlier, the State Commissioner for Information and Communications, Hon. Kingsley Fanwo said the State Government has provided enabling environment for transparency and accountability for good governance, noting that the Information Officers are the image makers of their MDAs and it is important for them to have this in-house training for content creation and for them to continue to advance in knowledge to enable them to meet up in the ever challenging Journalism profession and be abreast of modern Information Technology applications that can help them in discharging their duties effectively.
Hon. Fanwo charged them to actively use this medium in developing themselves for the growth of their MDAs and the State at large, admonishing them to be more vibrant in discharging their duties.
In his vote of thanks, the Acting Permanent Secretary of the Ministry, Mr Boniface Omakoji, described the training as part of education expressing his satisfaction that it took place under his guidance, adding that there can be no advancement without training. calling on the Information Officers to put all they have learnt to practice for better reportage.
He thanked the Honourable Commissioner for a job well done hoping that more training would be organised.